ComPair Data launches BlueWater Reporting Application Server
ComPair Data has vastly expanded the range of tools available to its users with the launch of a new application server, BlueWater Reporting.
The new tools include, most notably, the ability to instantly generate online reports in HTML format, enabling subscribers to quickly access capacity levels on virtually every global trade lane.
The data can still be downloaded into spreadsheet form, but the new upgrade allows for critical industry information to be viewable in a broader range of formats and on mobile devices.
Aside from improvements from an ease of use perspective, the new system also houses a host of new functionalities, including:
Vessel Deployment Report: Provides the ability to compare a shipping line's vessel deployment patterns on specific trades at regular intervals over the past three years. This new function can also be used to compare different lines' deployment patterns on various trades against one another. As an example, a user could see how APL's vessel deployment on the Asia-to-Oceania trade has varied monthly over the last three years, and then compare that to one of APL's alliance partners, or to another lines outside its alliance.

Trade Route Splits Report: Gives a breakdown of a line's allocated capacity by trade route on a specific date. Users can see which trades are most important to a specific line by seeing what percentage of its global allocated capacity is dedicated to certain routes. For instance, as of Feb. 5, 56 percent of the weekly allocated capacity provided by Hanjin Shipping on vessels it operates was tied to the transpacific trade (including 46 percent on the Asia-North America West Coast two-way trade).

Transit Analysis Report: Allows a user to quickly view the characteristics of all of the services provided by all carriers between two ports, most importantly the advertised transit times of the various services. So, for example, a user to could see how many services connect Ningbo and Oakland, which carriers or alliances are operating those services, and then compare the transit times between the two ports among the services offered. The report also includes direct links to the carriers' schedules for the corresponding services. In this example, ComPair Data shows four services linking those two ports, as of Feb. 5, with transit times ranging from 15 days on China Shipping's AAC service to 22 days on the Grand Alliance's CCX service.
Reports from the new system can be generated on an alliance-wide or single operator-only basis, or users can select their own subset of carriers to compare. Previous functionalities, including the core reports on deployed vessel capacity and allocated capacity by trade lane, are still available as well
Schedule Integration
In addition to providing detailed data for analysis of liner shipping, ComPair Data also gathers detailed vessel voyage schedule information on liner services on a global basis.
ComPair takes a unique approach in gathering schedule data. When we launch a trade route, we cover 100% of the liner services available on that trade route.
Schedules are provided in a data format designed to be easily integrated with contract and allocation data enabling companies to more effectively manage and control the procurement of ocean carriers services.
Data Snapshot- February 12, 2012
Capacity in Eastbound Transpacific nears that of May 2010
While transpacific carriers stripped a significant amount of capacity out of the eastbound trade in the last three quarters of 2011, they've held capacity levels stable since the start of December.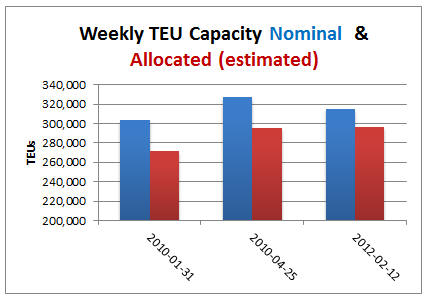 On Dec. 4, carriers were allocating an estimated 295,655 TEUs of weekly capacity. On Feb. 12, weekly capacity had risen marginally to 296,177 TEUs (an increase of 0.1 percent).
Nominal capacity on the trade has hardly wavered in the last 10 weeks either, moving in a band of 314,812 TEUs (the Feb. 12 level) and 319,793 TEUs (on Jan. 1). On Dec. 4, it was 314,880 TEUs, virtually the same level on February 12 .
Looking back to 2010 when rates rose significantly, allocated capacity is roughly 9 percent higher today than it was in early February 2010 (272,157 TEUs), when carriers had pulled sizable swathes of services in an attempt to better balance supply and demand on global east-west trades. However, on February 12 it was at virtually the same level as it was at the beginning of May 2010, at the end of transpacific service contract negotiations that year.